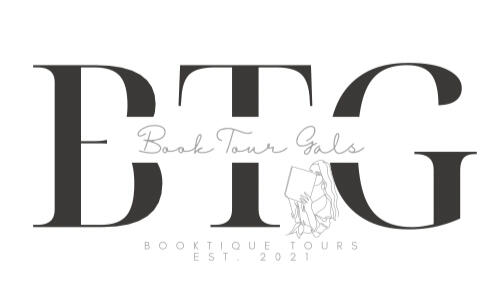 the first book tour company with fixed hosts
Helping authors find their readers
Welcome! Are you an author looking to reach new readers? We're here to help. At Book Tour Gals, we believe Indie authors and traditionally published authors deserve the same quality promotion for their works. This is why we offer our multi-year experience as content creators to help authors reach new readers across multiple platforms with tailored tours befitting their marketing needs. Unlike other tour companies, Book Tour Gals is not an intermediary between the author and the content creators. We establish a direct relationship with our authors and guarantee a professional and friendly experience.Below are some of the gorgeous creations by our hosts. To learn more about the Tour Gals, click the "About Us" button.
---
---
our services
Established in early 2021, the Book Tour Gals specializes in creating customized marketing campaigns for authors and book related businesses. As the first ever tour company to operate with set hosts, Book Tour Gals pride ourselves in offering the best custom marketing campaigns for our authors and businesses. Below you'll find a description of the different tour types we offer, but please reach out to us either on Instagram or email for pricing and if you have any questions about customizing our tours.
featured posts, release day blasts, and cover reveals
This tour is an IG feed post featuring your book or product. You can choose to have the book synopsis or a tour-wide giveaway in the caption of the post. We will also share any sale or pre-order information in the caption upon request. We can share Goodreads links and pre-order links in our stories as well.
featured reels posts
This tour is an IG reel featuring your book or product. The reel will also be reposted on TikTok, both in the Book Tour Gals TikTok and the host's TikTok. You can choose to have the book synopsis or a tour-wide giveaway in the caption of the reel. We will also share any sale or pre-order information in the caption upon request. We can share Goodreads links and pre-order links in our stories as well.For this specific tour, we ask that the author provide us with a synopsis, a list of tropes featured in the book, and/or any other qualities in the book they'd like us to highlight. If the author cannot provide us with this information, we recommend considering one of our marketing packages.
complete marketing package
This tour package includes unboxing stories, link stickers, stories while reading, an honest review on Amazon and Goodreads, and a dedicated feed post (with either tour-wide giveaway or the honest review in the caption). Please note: if promoting books in a series which requires reading of multiple books, please contact us for special pricing.
complete reels marketing package
This package includes the same things as the Complete Marketing Package except that the post is now a reels video which will also be reposted on Tiktok, both in the Book Tour Gals Tiktok and on the host's Tiktok. Please note: if promoting books in a series which requires reading of multiple books, please contact us for special pricing.
Note about reviews: The rates are for advertising and promoting on our platforms and for organizing a tour on Instagram. Our rates are NOT for reviewing the book and do not guarantee a specific rating. With that in mind, our reviews tend to focus on the positive aspects of the book, but also offer constructive criticism when necessary. If an issue arises when reviewing, we will contact the author to clarify before posting it publicly.
testimonials
---
Raven Kennedy, International Bestselling Author of The Plated Prisoner series"The Tour Gals are the top of my list recommendation for book tours. Each and every one of them puts so much heart and effort into hosting. Not only do they have beautiful feeds that enrich the Bookstagram community, but they are the nicest, most supportive people with a serious talent for gorgeous photos. I cannot recommend them enough, and yet, I want to keep them to myself!" —Raven Kennedy
L.A. Gardner Media, PA and PR rep for USA Today and NYT Best Selling Authors"I have had the pleasure of partnering with the Tour Gals for a number of client releases. What strikes me the most is their professionalism, creativity, and genuine love of reading. They go above and beyond to create gorgeous reels, stories, and posts for their tours while keeping in tune with their audience expectations. I have seen firsthand the success of their tours with book launch after book launch and would highly recommend them to anyone needing book promotion. " - Lauren Gardner
Sarah A. Parker, International Bestselling Author of To Bleed A Crystal Bloom"The Book Tour Gals are everything and so much more. Each and every one of them are artists in their own right, and the amount of effort they put into my book tour was astonishing—from the stunning pictures to the engaging posts and reels, all pulled together by their dedication and outstanding communication. I felt like a queen for the entire 8 days of my tour, because they treated me and my book with THAT much care and consideration. Mushy stuff aside, my sales skyrocketed over the course of the tour, and I feel a lot of that is thanks to these amazing gals. I cannot recommend them enough." - Sarah A. Parker
Danielle Harrington, Award-Winning Author of The Hollis Timewire series"The Book Tour Gals were so kind and supportive! They took gorgeous pictures of my books, provided insightful reviews for the Instagram Tour posts, and communicated quickly. The best part of the Book Tour was how special they made me feel! It was incredible seeing my book promoted alongside some of the big names on Bookstagram. It gave my platform and book series wider visibility and new fans who are dying to find out what happens next. I highly recommend these ladies. They were such a treat to work with!" - Danielle Harrington
Ivy Asher, International Bestselling Author of The Osseous Chronicles series"It doesn't get better than the Tour Gals when it comes to book tours. Their passion and talent truly sets them apart. You can feel the love they have for books and authors in every post, reel, story, and interaction. I was completely blown away by the experience I had, but that's just what the Tour Gals do. I wholeheartedly recommend them, and I look forward to working with them in the future." - Ivy Asher
Megan Van Dyke, Author of Second Star to the Left"The Book Tour Gals were so great to work with. They were organized, timely, and professional, but also so much fun. A genuine joy to work with. Each of the ladies embraced my book and made beautiful posts that helped me reach a whole new audience. During the tour, my book reached the #1 new release spot in its very competitive category on Amazon, which was so much more than I expected. I would certainly recommend them to other authors." - Megan Van Dyke
Ann Denton, Author of the Tangled Crowns and Feral Princess series, and of the poetry collection Ridiculous Truths"The Tour Gals are thoughtful and always seek to find beautiful and engaging ways to present the books they read. It's so easy and wonderful to work with them, and I can definitely say they've helped increase the visibility of my work." - Ann Denton
Veronica Douglas, Author of the Magic Side: Wolf Bound series"The Book Tour Gals made our last launch come alive. From showstopping photos to in-depth reviews to hilarious reels, it was a blast seeing each of their super creative posts. They helped us reach a much wider audience and made us feel like superstars. Thanks gals for our best release ever! " - Veronica Douglas
Emma V.R. Noyes, Author of The Sunken City"I can proudly recommend the Book Tour Gals to any author looking to publicize their book. The gals are absolutely fabulous to work with - fun and communicative, with top-notch social media content creation. 10//10 recommend!" - Emma V.R. Noyes
Kendra Thomas, Author of the Granted series"Love working with the tour gals. Every time I have a book release I always choose them! They're professional and organized. And not only that they're always so supportive and genuine! I definitely recommend working with them if you're planning to get the word out about your upcoming book! You won't regret it!" - Kendra Thomas
S.J. Tilly, Author of the Sleet series"Working with the Book Tour Gals was an absolute pleasure! Each and every one of them was super responsive and interactive with the Book Community, both before and after my tour, and made me feel like a part of their squad. I'm happy to have worked with them and even happier to call them my friends." - S.J. Tilly
T.R. Slauf, Author of the Legends of Lightning series"The Book Tour Gals were a pleasure to work with. Pre-tour they were extremely kind and patient with the numerous questions I had about the different services they offered. Each of them have their own unique way of creating lovely content, yet all of their styles blended together to make for a wonderful tour experience. I look forward to working with them again!" - T.R. Slauf
Brian Paglinco, Author of the poetry collection Midnight Light"The Book Tour Gals are an absolute pleasure to work with. They know books, they know how to market books, and they know social media. So there's no need to worry about it! They are confident, and they are organized. They are also kind, and they are also great at communicating. So don't worry about that either! Their rates are great and they work very hard to make sure your investment pays off! I highly recommend the Book Tour Gals. I look forward to working with them again in the future." - Brian Paglinco
We've hosted tours for most literary genres and for all age groups, including partnerships with award-winning and bestselling authors. Click on the book covers to find out more about their works.
---
---
our contemporary fiction shelf
---
---
our fiction and thrillers shelf
---
---
We've also partnered with some companies! Click on the logos to find out more about them.
---
get to know the book tour gals
Established in 2021, our company is run by eight women united by a love of reading and photography. Our story is about a group of friends that decided to discover new books together and share the love of indie books with their communities. Click on the photos below to find out more about our hosts.
thais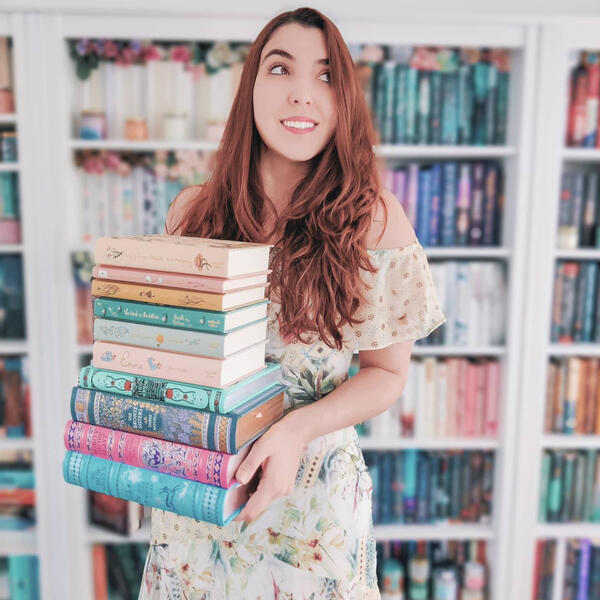 Thais is an energy engineer with a not so secret passion for books! She is Latina but lives in Belgium- Europe. Her love for reading started during her childhood years in Canada, home of the maple. Which is also when she developed her fluency in English. With both her parents also avid readers and book collectors she was always motivated to read.Now she's slowly trying to influence her fiancée to become a reader like her. Thais started her bookstagram @tata.lifepages on June 6th, 2018 and it has become a passion of hers. Her mom and her fiancée are her biggest supporters and help her to manage her account! Her mom is her social media coordinator while her fiancée is her content supporter and photography assistant.
vanessa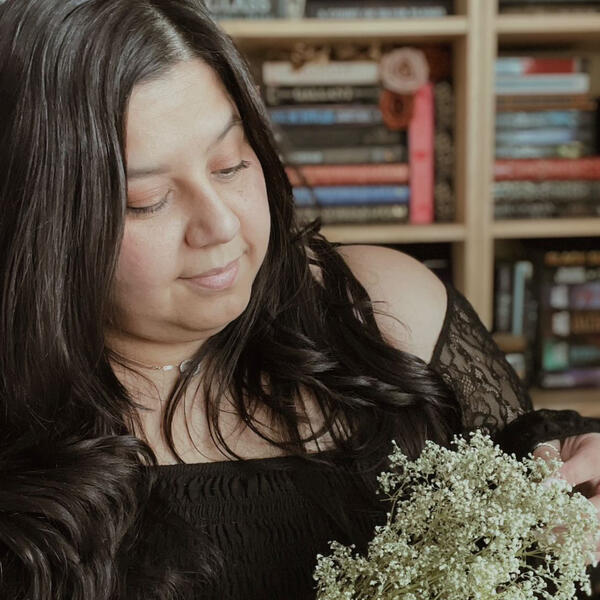 Vanessa or Ve as her friends and family call her, is a career mom and a student. She is a native New Yorker living in Fort Collins, CO. She has a Bachelors in Education from BAC. She is a huge advocate for Human Rights, her motto in life is to always be kind. Some of her passions are reading, photography, and home decor. She loves sharing her cozy mountain lifestyle with followers and friends.Ve's had her bookstagram account for 4 years (time flies!). She loves all things that are hygge and neutral colors. Her love for reading started in early elementary school thanks to C.S. Lewis' The Chronicles of Narnia and Shel Silverstein's The Giving Tree. She gravitates towards Fantasy and Romance, her favorite series is Throne of Glass by Sarah J. Maas. She also loves to dive into Sci-Fi, Dystopian, and Paranormal. Although it's not her regular go-to she enjoys reading a good thriller from time to time and is always open to read other genres.
chiara
Chiara currently lives in Italy, but the years of her childhood spent in Bellevue, Washington shaped her as a reader and nurtured her love for the English language. She likes to say that Bilbo Baggins and Daenerys Targaryen gave her life direction. Reading The Hobbit in Elementary school taught her to love magic and adventure, but with Game of Thrones (both the TV show and the book series) she developed a taste for political intrigue, vast world-building and complex characters. She now co-writes with her sister, Maria, under the pen name C.M. Karys, and their first novel, Ilahara: The Last Myrassar, was published on November 1, 2021! When Chiara isn't reading, you'll find her writing and creating her next fictional version of Henry Cavill.Chiara's favorite authors are an all-female bookish trinity: Sarah J. Maas, Cassandra Clare and Tessa Bailey, but there are many books she adores, like the Captive Prince trilogy by C.S. Pacat, which she's pushed on countless readers in her years in the book community. While Fantasy is her most read genre (especially YA and Adult), she's also an avid reader of Paranormal and Contemporary Romance, and she's open to new experiences with genres outside of her comfort zone.
maria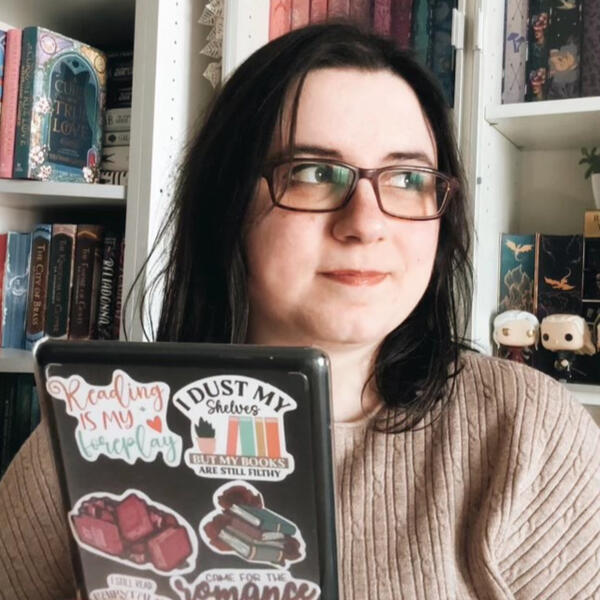 Maria currently lives in Italy, but she spent a big part of her childhood in Bellevue, Washington. Those years shaped her love for reading and writing, and to this day, she still reads and writes in English. Aside from Bookstagram, her other great passion is writing. Like most things in life, it's something she shares with her sister, Chiara, with whom she co-writes everything with the pen name C.M. Karys. Their first novel, Ilahara: The Last Myrassar, was published on November 1, 2021!Maria's favorite author is Sarah J. Maas, Cassandra Clare, Tessa Bailey, Emily Henry and Ali Hazelwood, but there are so many more! She reads anything ranging from YA to Adult, mostly Fantasy, Paranormal, and Contemporary Romance, but she also enjoys Sci-fi and Dystopian. Smut or no smut, romance is one of her favorite elements in a book, though she can just as well enjoy one that favors other aspects like mystery and political intrigue!
jourdan
Jourdan loves sharing her cozy, bookish lifestyle on her account. She shoots all of her photos in her home, with most photos staged in her bedroom. She also enjoys sharing her love of coffee, her homeschooling preschool endeavors with her toddler twins, and her beautiful hometown. She has built a level of trust with her followers, they frequently share that they've purchased books or tried a new coffee brand because of content she has shared. Her goal is to share life with her followers, inspire them to try new things, or to create their own space of cozy comfort to retreat to after a long, hard day.
candice
Candice is stay at home mom, book hoarder, one day finish BA English major, and has dreams of being a writer. She lives in between all of the book worlds and Michigan, US.Candice has been a reader all of her life but vividly remembers early teenage years Tamora Pierce sucking her completely into the pages of books. Her favorite genres are Paranormal romance and pretty much all smut. Romance is a must have for her to really enjoy a book. That all consuming, swoon and die for each other while ripping your heart out story. Her favorite authors are Raven Kennedy and Heather Lyons and she tends to read mostly indie books. She enjoys recommending all the books for people to read and is very passionate about her bookstagram.She started her bookstagram in May 2017 and has found herself in her whimsy, blue and busy style of photos.
shelby
Shelby is a fifth year AP English teacher from Florida. She earned her degree in English Literature (concentration in Medieval and Renaissance Studies) from FSU, where she met her fellow educator husband. They have a son together named Saxon and currently live just north of Jacksonville. Shelby grew up a musical theatre kid and a competitive cheerleader, and of course, an avid reader! She has been obsessed with storytelling and bookish fandoms since childhood, and now feels so lucky to get to talk about books with young readers for a living!Her favorite series include Outlander, Game of Thrones, Lord of the Rings, and anything by Bardugo, JLA, and SJM. Shelby began her Bookstagram back in June 2018 when she found herself reconnecting with nostalgic love for fantasy books while voraciously reading during the hot summer months while heavily pregnant. She always maintained a home library and book merch collection, and even worked for a photographer through high school. With bookish cosplay recently added into the mix, book-blogging has become the perfect creative outlet to merge Shelby's many passions. Since joining, she has found an ardent love for working with authors and fellow bookstagrammers to help promote wonderful new books and allow others to discover their writing!
tati
Tati is a book lover, writer and enthusiast! She is a middle school teacher by day, and a smut, romance reader by night! Although those are her favorite genres, she does read a variety of books and tend to love reading outside of her comfort zone. She always describes her feed as pastel and whimsy! When she's not bookstagramming, teaching, or reading, she enjoys being around family and friends.
At Book Tour Gals we strive to provide professional service and creativity. We are a group of bookstagrammers located across the globe with availability during different time zones for coordinations and inquiries. Our goal is to fall in love with indie books and share that with our community!We appreciate your visit today. If you are interested in learning more about our tours and/or availability for booking please contact us via email at: booktourgals@gmail.com. We'd be happy to answer any questions you may have. Have a great day!